METEOROLOGICAL PREPARATION FOR ATHENS 2004
OLYMPICS
Dimitris Ziakopoulos, HNMS, Greece
1. PURPOSE
Weather support provided for five Summer Olympic Games (Los Angeles 1984, Seoul 1988, Barcelona 1992, Atlanta 1996 and Sydney 2000) has been documented. While the details and the weather challenges of each may vary, the support provided by the NMS of each host country follows a very similar pattern.
The Hellenic National Meteorological Service (HNMS) will provide the 2004 Olympic Games in Athens with tailored venue specific weather services. The primary user of these weather services is the Athens Organizing Committee (ATHOC) for the Olympic Games, although media, other public organizations and the general public will also have access to enhanced services.
The Athens Games forecast period is primarily from 1 August to 30 September 2004.

2. LOCATION OF FORECAST SITES
Forecasts will be provided for the greater Athens area with site specific forecasts for Olympic venues (Fig. 1) and for the other Olympic cities. (Fig.2).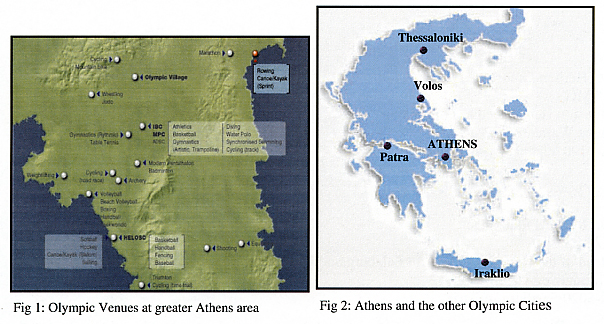 3. FORECASTING OFFICES AND ROLES
The following forecasting offices will operate in Athens during the Olympics (Fig. 3):
National Meteorological Centre (NMC) within the HNMS building.
· will continue to provide its normal forecasting and severe weather services and will be responsible for forecasts to the general public, aviation and shipping.
Athens Olympic Meteorological Centre (AOMC)
· within the HNMS building and adjacent to the National Meteorological Centre, responsible for site specific forecasts to Olympic land based sports and general forecasts for the Athens Olympic region. AOMC also issues special Olympic warnings for thunderstorms and winds.
Athens Olympic Sailing Meteorological Office (AOSMO)
· in a temporary building at Sailing Marina, Agios Kosmas; responsible for site specific hourly forecasts to yachting.
Athens Olympic Rowing Meteorological Office (AORMO)
· In a temporary building at Schinias Whitewater Stadium. A liaison forecaster will be based at the AORMO to interpret and communicate weather forecasts and warnings and changes of forecasting policy. Courses run north to south and are particularly sensitive to strong cross winds.
Meteorological Office at the Sports Command Centre I Main Operations Centre (MOSCC)
· at ATHOC Headquarters in Ultimo. Two liaison forecasters will be based at the MOSCC to interpret and communicate weather forecasts and warnings and changes of forecasting policy.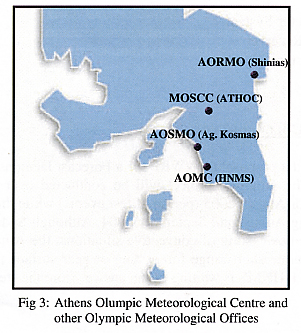 4. STAFFING
· Thirty five people will be rostered on duty at AOMC and the remaining Olympic Meteorological Offices. Olympic Management Staff and Media Support Staff are included.
5. VENUE FORECASTS

The following products will be issued routinely by the AOMC and AOSMO.
· Olympic General Weather Forecast
· Olympic 1-hourly forecasts (up to 36h)
· Olympic 3-hourly forecasts (up to 48h)
· Daily 5-day forecasts
· Olympic wind warnings
· Olympic thunderstorm bulletin

6. INSTRUMENTATION PLAN

Our instrumentation plan which has started to materialize, includes:
· Automatic weather stations
· High Performance Computer for the very high resolution models running
· Archiving System
· Doppler Radar
· Wind Profiler
· Lightning Detector System
· Local Satellite Receiver
· Nowcasting System

7. INTERNATIONAL COLLABORATIONS

HNMS has submitted a proposal to WWRP for a Forecast Demonstration Programme (FDP) in Athens. The proposed project will be conducted over two years. A trial phase is scheduled for August 2003 (period of test events) while the operational phase will take place during August and September 2004. Although Sydney 2000 FDP was more oriented to the nowcasting of convective situations, the Athens 2004 FDP will also include the accurate short-range forecasting of near-surface parameters, namely temperature and wind. HNMS is waiting for an answer from the steering committee of WWRP.
8. THREATENING WEATHER TYPES FOR TILE OLYMPICS
The three most threatening weather types with potential impact during the Athens Olympic Games are:
Excessive surface temperature (heatwaves)
Athens urban basin is notorious during summer months for excessive surface temperatures. High temperatures can last for several days. Inside the urban basin, the distribution of temperature presents a large spatial variability due to the existence of urban areas and the proximity of water bodies. Gentle sea breezes contribute to more comfortable temperatures near the coasts while inside the urban center surface temperature is much higher. However, the discomfort index has a low value because of the low humidity (Fig. 4).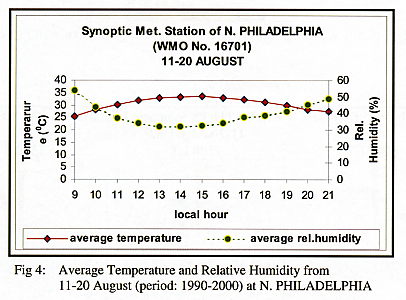 Strong surface winds
During summer, the Aegean Sea is influenced by strong northern sector winds, called the Etesians. Although these regional winds affect mainly the Aegean Sea and the islands, they also affect the Athens area (Fig. 5, 6). As you can see, at Marathon - Schinias area (rowing centre) the sea breeze blows from SE-NE direction while at Helliniko area (sailing centre) the wind conditions are more complicated as the sea breeze generally blows from S-SW directions. Therefore, there is a need for accurate forecasting of surface winds, especially near the coasts.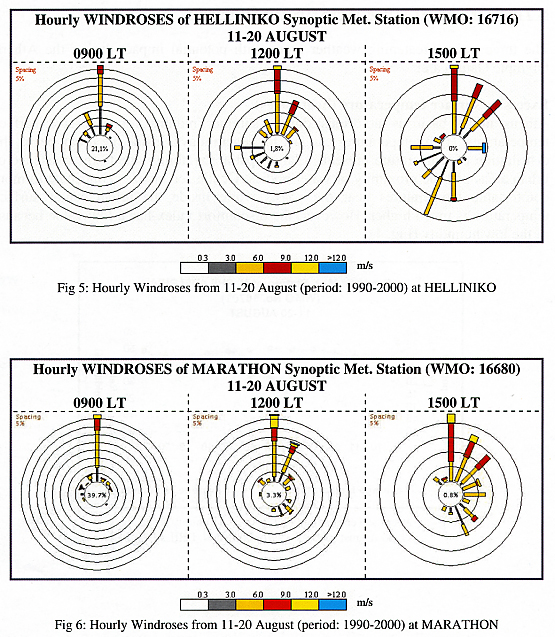 Summer thunderstorms
They can occur due to excessive ground heating, often in combination with upper level troughs and pools of cold air. Sometimes they are violent, accompanied with heavy precipitation (even small size hail), lightning and strong gusts of wind. There are on average 3 days of thunderstorms during August.



Dimitris Ziakopoulos
Member of Olympic Meteorological Support Committee HNMS