The new procedure « meteorological vigilance » at METEO-FRANCE

Bernard Roulet, Meteo-France
1. Weaknesses of the previous warning procedure
· Too many warning messages were issued which lead to a lessening of the impact of these warnings.
· The general public information was not well operated.
· Lack of danger qualification associated to forecast meteorological phenomena, people did not know how to react.
· No real monitoring procedure
2. The new procedure
The new system has been conceived by both Météo-France and the civil protection services. It can be divided in two parts:
-the first one is a chart called a "vigilance map", combining legibility and simplicity;
-the second part is a follow-up of the situation based on plain language reports.
2.1 The meteorological vigilance map
· It defines for the next 24 h the potential meteorological danger
· 4 levels of vigilance, each associated with a colour (green, yellow, orange, red)
· The weather phenomena: strong winds, heavy rains, thunderstorms, snow/black-ice, avalanches
· The MAP is issued twice a day at Toulouse, broadcast at 06 and 16 local time
Definitions of the four levels of vigilance
Green (level 1) no special vigilance required.
Yellow(level 2): be careful if you practise activities dependent on meteorological risks; some phenomena, usual for the area but occasionally dangerous (for instance mistral, thunderstorms) are forecast ; keep informed about meteorological changes.
Orange(level 3): be very vigilant; dangerous meteorological phenomena are forecast; keep informed about meteorological changes and follow the authorities' advice.
Red(level 4): An absolute vigilance is required ; dangerous and exceptionally intense meteorological phenomena are forecast ; be regularly informed about meteorological changes and conform to the orders given by the authorities.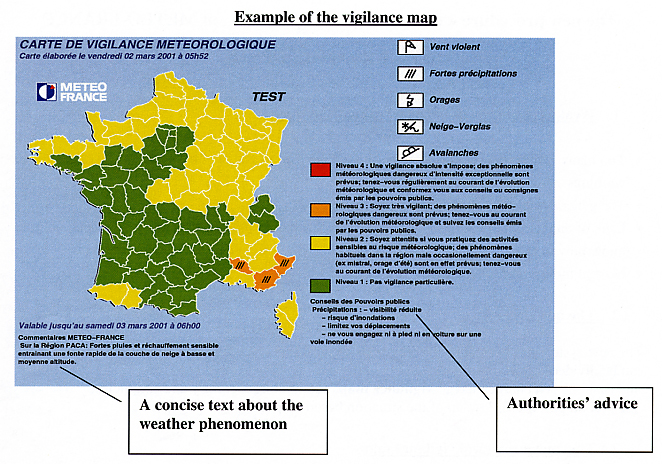 2.2 Follow-up in orange or red situations
National bulletins are issued at least every 6 hours, regional bulletins every 3 hours. They include meteorological situation in every day terms, observed and forecast data, qualification of the event, authorities' advice and time of the next report issue.
2.3 Distribution
« push » mode (mainly by email or fax)
· authorities responsible for safety
· media
« pull » mode
·Internet: www.meteo.fr